Natural jade green onyx stone slab for bathroom shower
Product Detail
Product Tags
Product Name
Natural jade green onyx stone slab for bathroom shower
Application/usage
Interior and exterior decoration in construction projects / excellent material for indoor&outdoor decoration, widely used for wall, flooring tiles, Kitchen & Vanity countertop, etc.
Size Details
Available in different sizes for different products.
(1)Gang saw slab sizes: 120up x 240up in thickness of 1.8cm, 2cm, 3cm, etc;
(2)Small slab sizes: 180-240up x 60-90 in thickness of 1.8cm, 2cm, 3cm, etc;
(3)Cut-to-size sizes: 30x30cm, 60x30cm, 60x60cm in thickness of 1.8cm, 2cm, 3cm,etc;
(4)Tiles:12"x12"x3/8" (305x305x10mm), 16"x16"x3/8" (400x400x10mm), 18"x18"x3/8" (457x457x10mm), 24"x12"x3/8" (610x305x10mm), etc;
(5)Countertops sizes: 96"x26", 108"x26", 96"x36", 108"x36", 98"x37" or project size,etc.,
(6) Vanity tops sizes: 25"x22", 31"x22", 37"x/22", 49"x22", 61"x22", etc.,
(7) Customized specification are also available;
 Finish Way
Polished, Honed,Flamed,Sandblasted,etc.
 Package
(1) Slab: Seaworthy wooden bundles;
(2) Tile: Styrofoam boxes and seaworthy wooden pallets;
(3) Vanity tops: Seaworthy strong wooden crates;
(4) Available in Customized packing requirements;
Green onyx marble is a one-of-a-kind natural stone with veins of dark green, white, pink, and brown. The pattern created on the surface of this stone is more like to oil paintings, attracting the attention of every spectator. Green onyx marble is processed in the form of slabs, slabs and tiles. Like other stones of the same type, the thickness of this stone is one of the factors affecting its price. As a standard, this stone is processed in thicknesses of 1.6 centimeters, but most of this stone is used as a slab.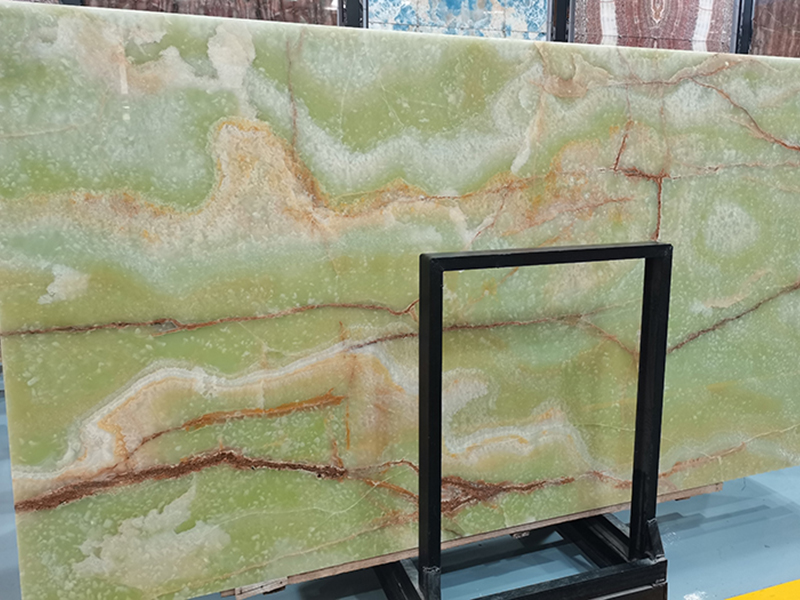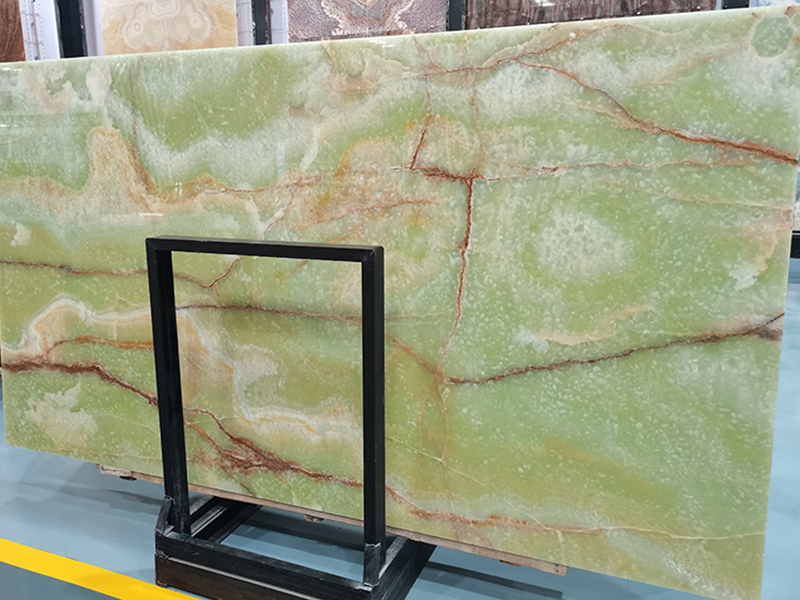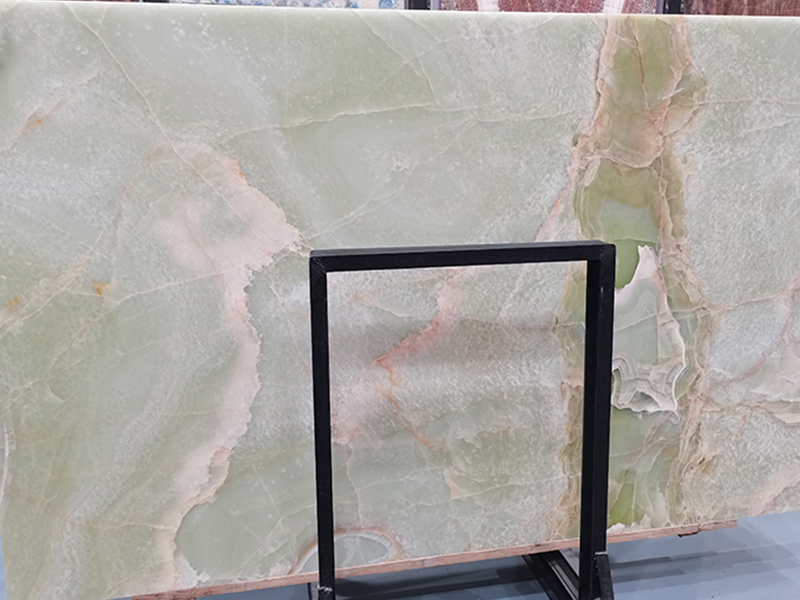 Green onyx marble shows all of the features of its family, onyx marble. This stone is one of the most unique of all available stones due to its extreme resistance to impact and pressure, resistance to water penetration and scratches, light transmission, polished and glossy surface, extremely high density, and beautiful beauty. This intriguing natural stone will make a bold yet absolutely exquisite statement in your house.  Because of its distinct look, this green onyx stone has a wide range of applications.  From backlit onyx stone statement pieces to a touch of elegance with onyx bathroom countertops, the timeless beauty of Jade green onyx is guaranteed to leave an impact.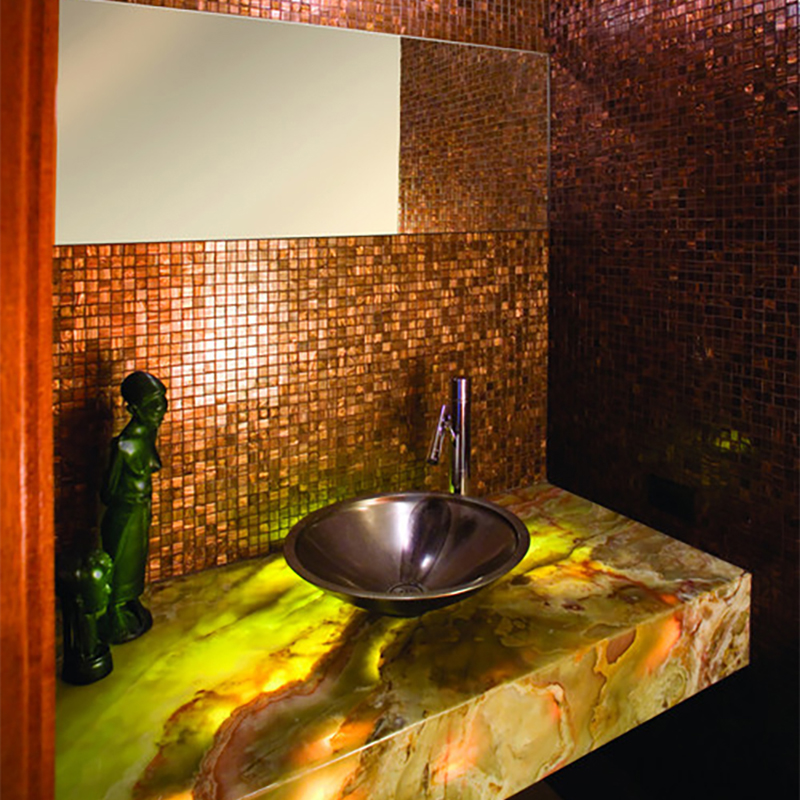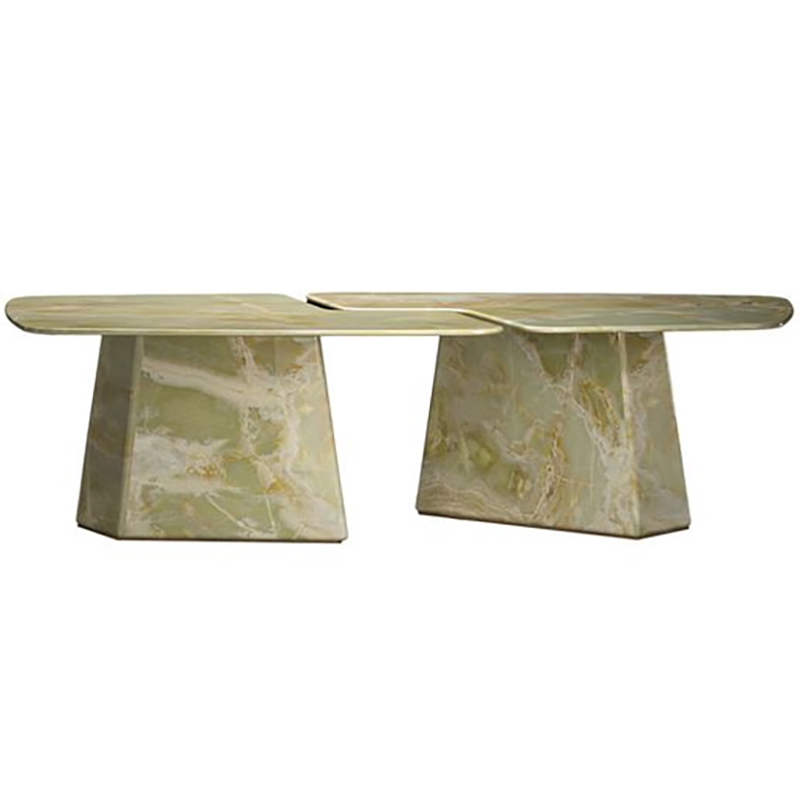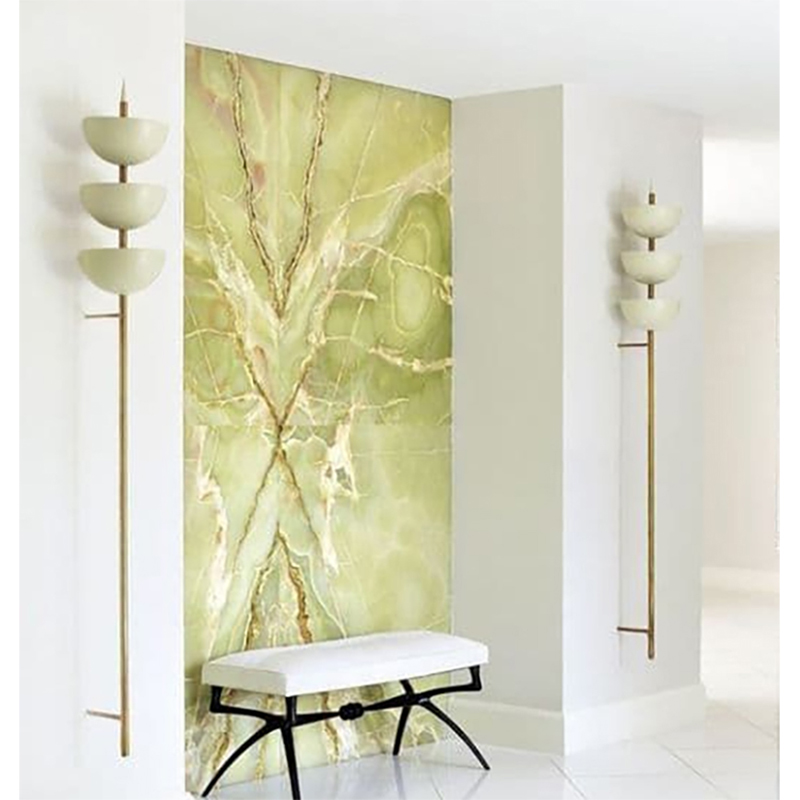 Onyx marbles for building decoration ideas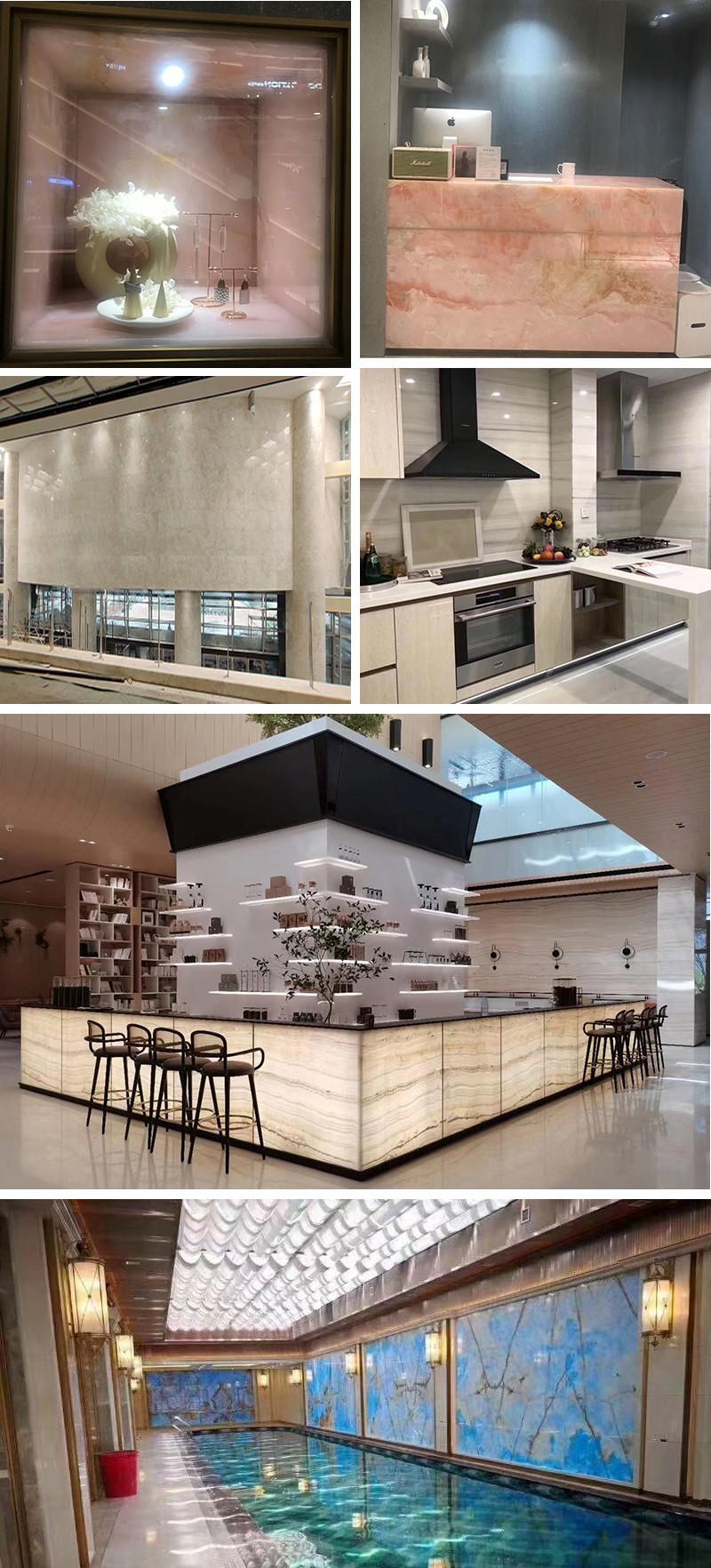 Rising Source Group have more stone material choices and one-stop solution & service for the marble and stone projects. Untill today, with the big factory, advanced machines , a better management style, and a professional manufacturing, design and installation staff. We have completed many large projects around the world, including government's buildings, hotels, shopping centers, villas, apartments, KTV and clubs, restaurants, hospitals, and schools, among others, and have built a good reputation. We make every effort to meet strict requirements for selection of materials, processing, packing and shipping to ensure that high-quality items reach securely at your location. We will always strive for your satisfaction.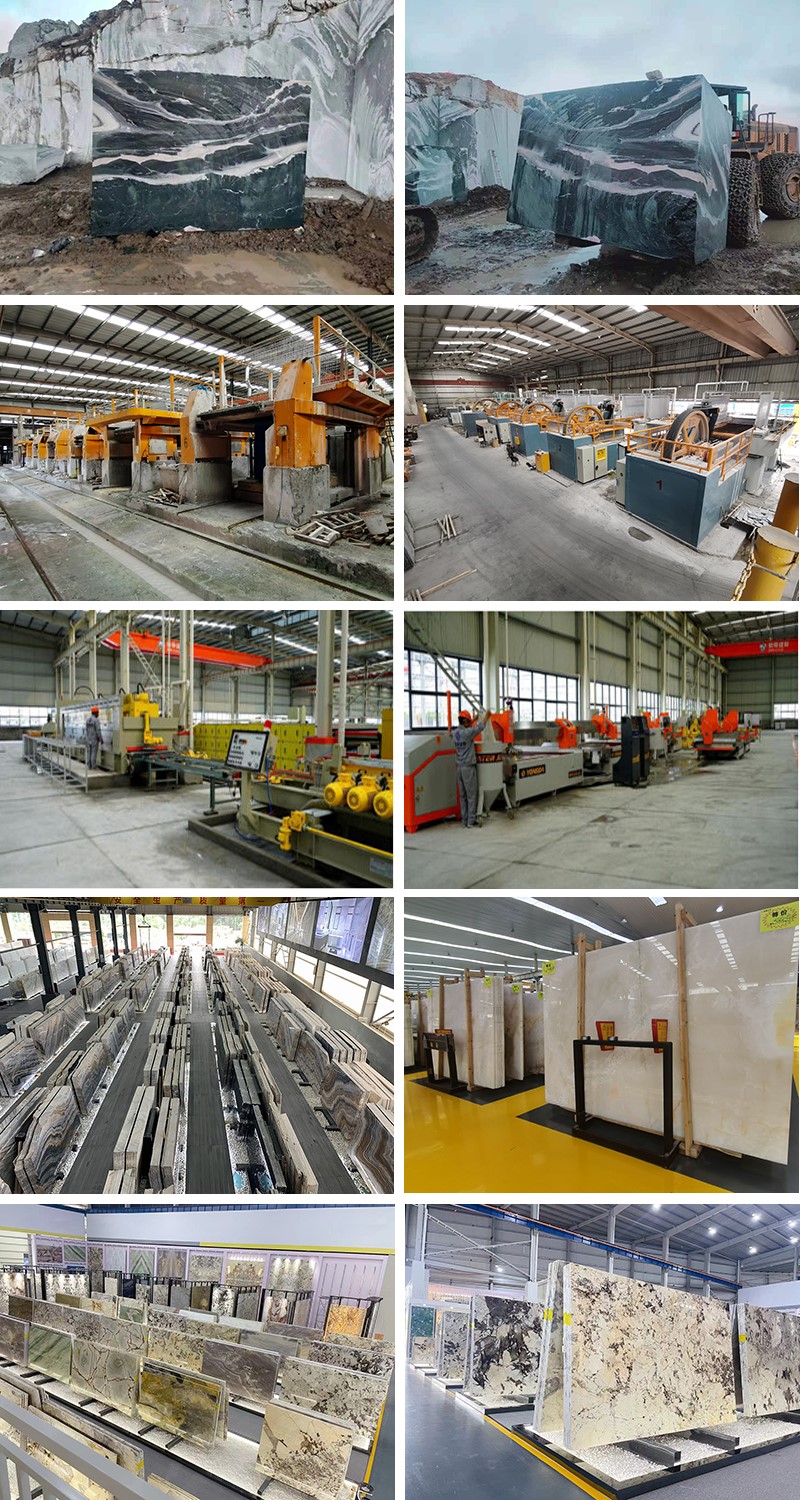 Our packins compare with others
Our packing is more careful than others.
Our packing is safer than others.
Our packing is stronger than others.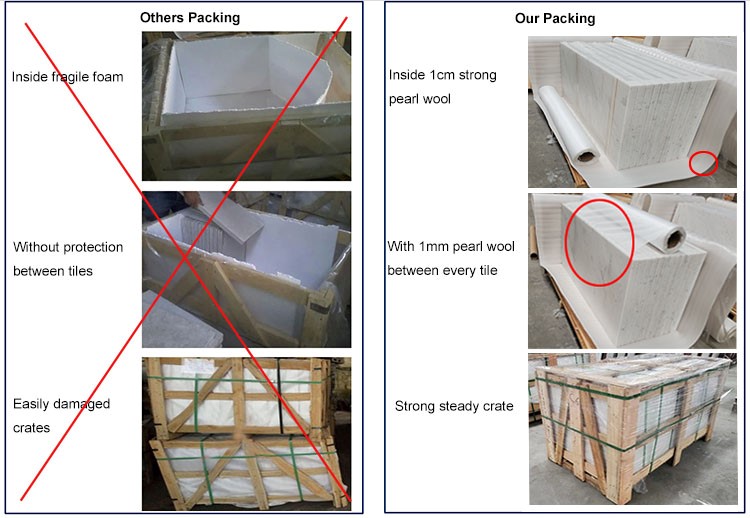 Many of our stone products have been tested and certified by SGS to assure good quality products and best service.
About SGS Certification
SGS is the world's leading inspection, verification, testing and certification company.  We are recognized as the global benchmark for quality and integrity.
Testing: SGS maintains a global network of testing facilities, staffed by knowledgeable and experienced personnel, enabling you to reduce risks, shorten time to market and test the quality, safety and performance of your products against relevant health, safety and regulatory standards.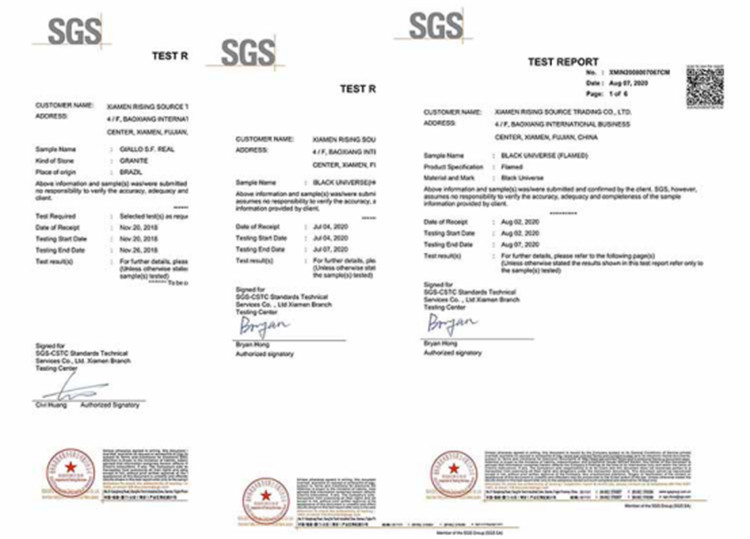 We've been participating in stone tile exhibitions around the world for many years, such as Coverings in US, big 5 in Dubai, stone fair in Xiamen and so on, and we are always one of the hottest booths in each exhibition! Samples are eventually sold out by customers!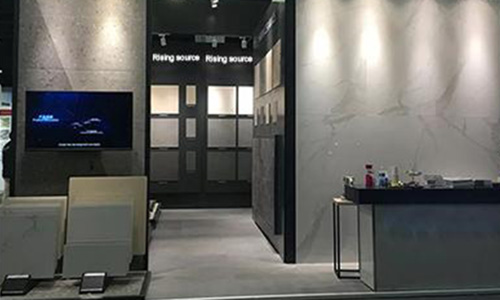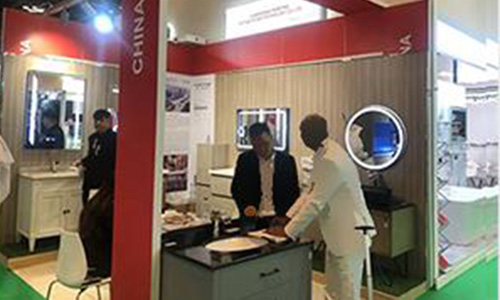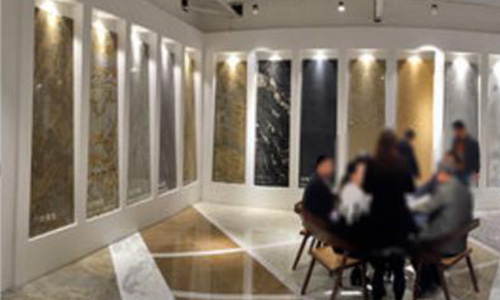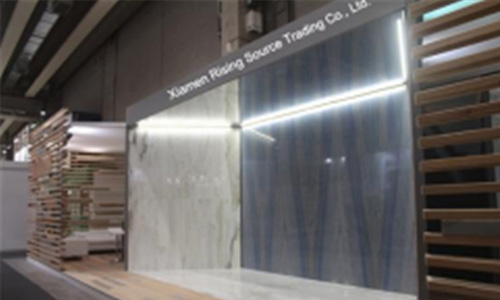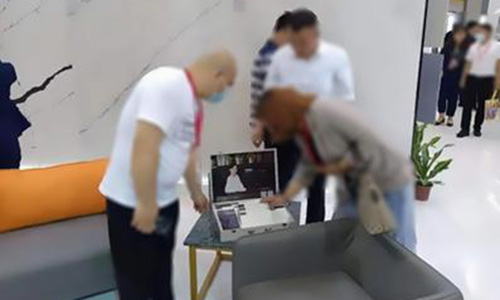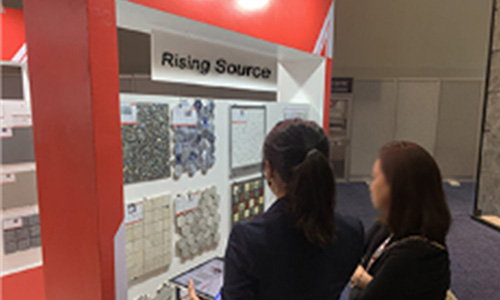 What are the payment terms?
* Normally, a 30% advance payment is required, with the rest pay before shipment.
How can I obtain a sample?
The sample will be given on the following terms:
* Marble samples less than 200X200mm can be provided for free for quality testing.
* The customer is responsible for the cost of sample shipping.
Delivery Leadtime
* Leadtime is around 1-3 weeks per container.
MOQ
* Our MOQ is usually 50 square meters. Luxury stone can be accepted under 50 square meters
Guarantee & Claim?
* Replacement or repair will be done when any manufacturing defect found in production or packaging.
Browse our other onyx marble stones to find a plethora of natural jewels waiting to infuse your house with subtle glitz.
---
---