Luxury stone swiss alps alpinus white granite for dark cabinets
Product Detail
Product Tags
Product Name
Luxury stone swiss alps alpinus white granite for dark cabinets
Application/usage
Interior and exterior decoration in construction projects / excellent material for indoor&outdoor decoration, widely used for wall, flooring tiles, Kitchen & Vanity countertop, etc.
Size Details
Available in different sizes for different products.
(1)Gang saw slab sizes: 120up x 240up in thickness of 2cm, 3cm, 4cm,etc;
(2)Small slab sizes: 180-240up x 60-90 in thickness of 2cm, 3cm, 4cm,etc;
(3)Cut-to-size sizes: 30x30cm, 60x30cm, 60x60cm in thickness of 2cm, 3cm, 4cm ,etc;
(4)Tiles:12"x12"x3/8" (305x305x10mm), 16"x16"x3/8" (400x400x10mm), 18"x18"x3/8" (457x457x10mm), 24"x12"x3/8" (610x305x10mm), etc;
(5)Countertops sizes: 96"x26", 108"x26", 96"x36", 108"x36", 98"x37" or project size,etc.,
(6) Vanity tops sizes: 25"x22", 31"x22", 37"x/22", 49"x22", 61"x22", etc.,
(7) Customized specification are also available;
 Finish Way
Polished, Honed,Flamed,Sandblasted,etc.
 Package
(1) Slab: Seaworthy wooden bundles;
(2) Tile: Styrofoam boxes and seaworthy wooden pallets;
(3) Vanity tops: Seaworthy strong wooden crates;
(4) Available in Customized packing requirements;
Alpinus white granite is a beige background with grey and purple veins natural stone. It's also called snow mountains blue granite in China. This beautiful exotic granite is used on the kitchen island and countertops withe dark cabinet. It can bring your kitchen elegance and luxury elements.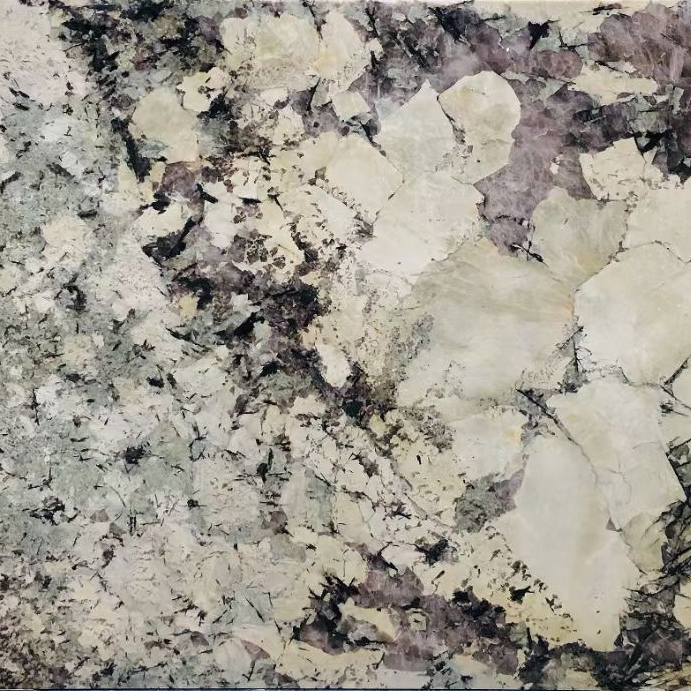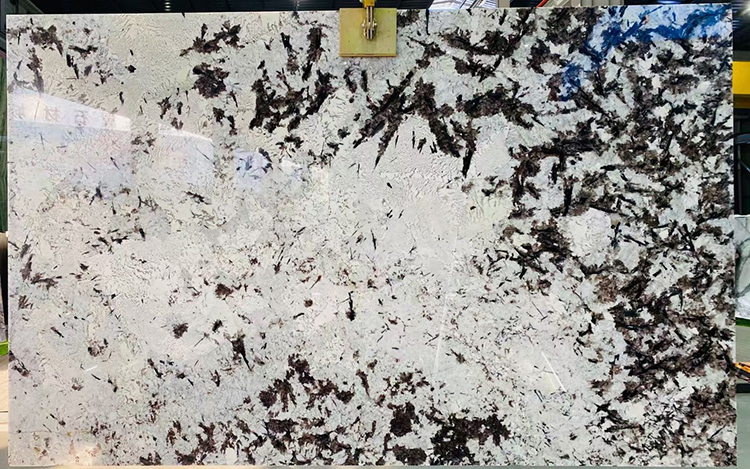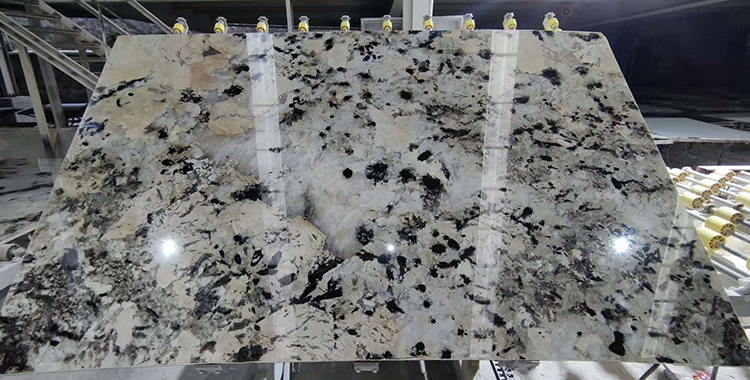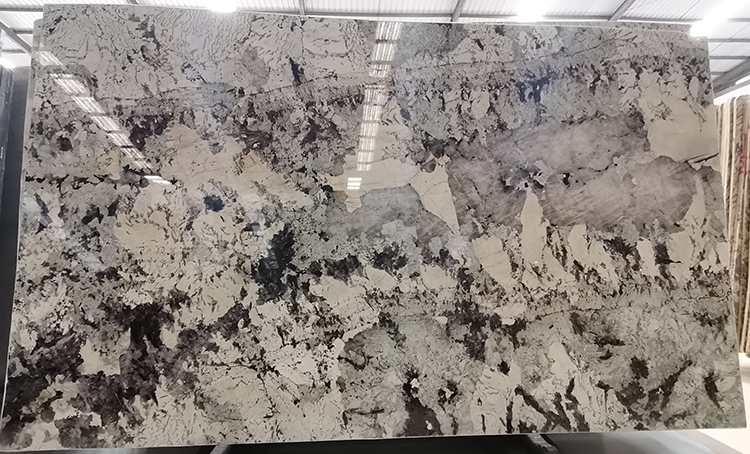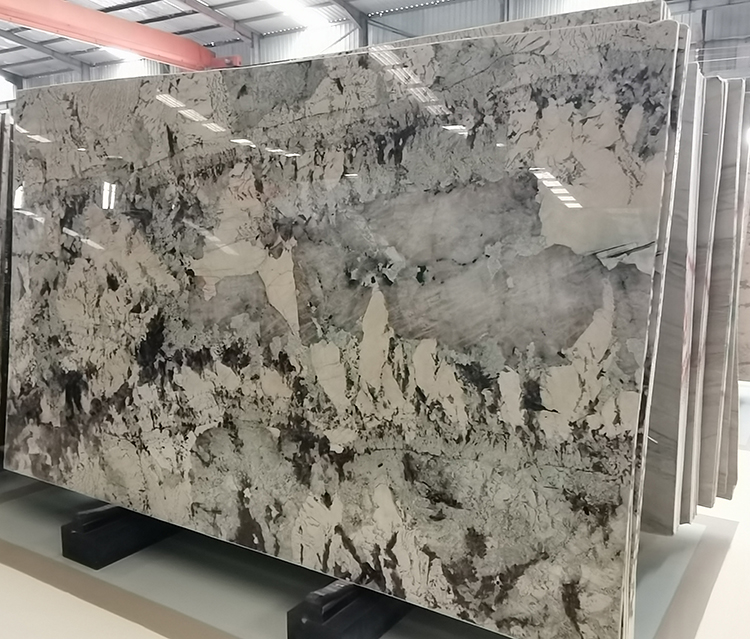 The above pattern looks like a peacock is spreading its tail, and it's so beautiful.
Granite is a highly durable material that is not prone to scratches. While not ideal to work on since it will dull knife blades, it will withstand normal wear and tear quite well. Granite is also heat resistant, making it suitable for usage near a stove or cooktop. Granite can withstand the heat without being harmed or weakened when you need to quickly set down a hot pan. Few other countertop materials can equal granite's deep beauty. It's a natural product with a classic feel and appeal. Granite worktops elevate the aesthetic appeal of a high-end kitchen and are frequently used as the room's focal point. With over 40 colors of granite to choose from, you're sure to find one that complements your kitchen cabinets, flooring, and walls.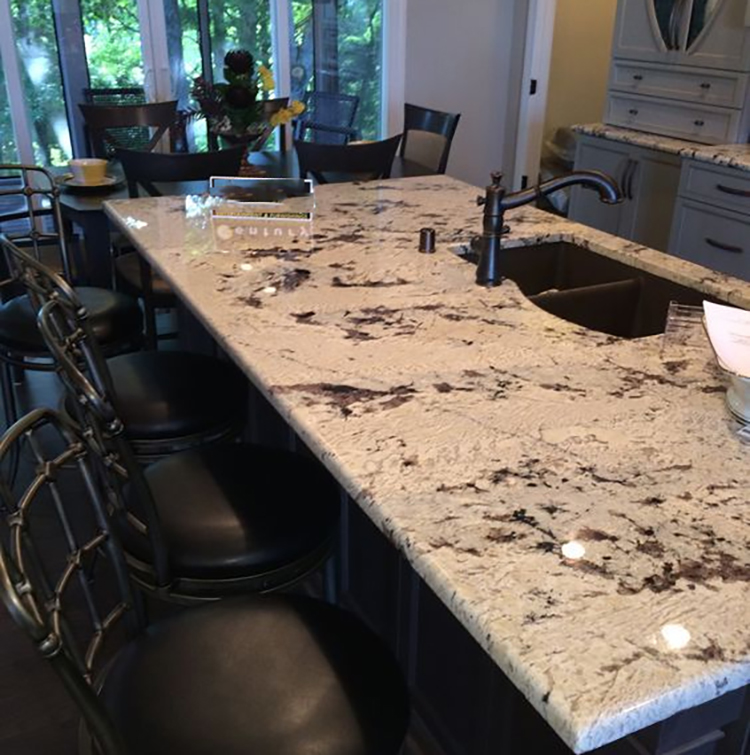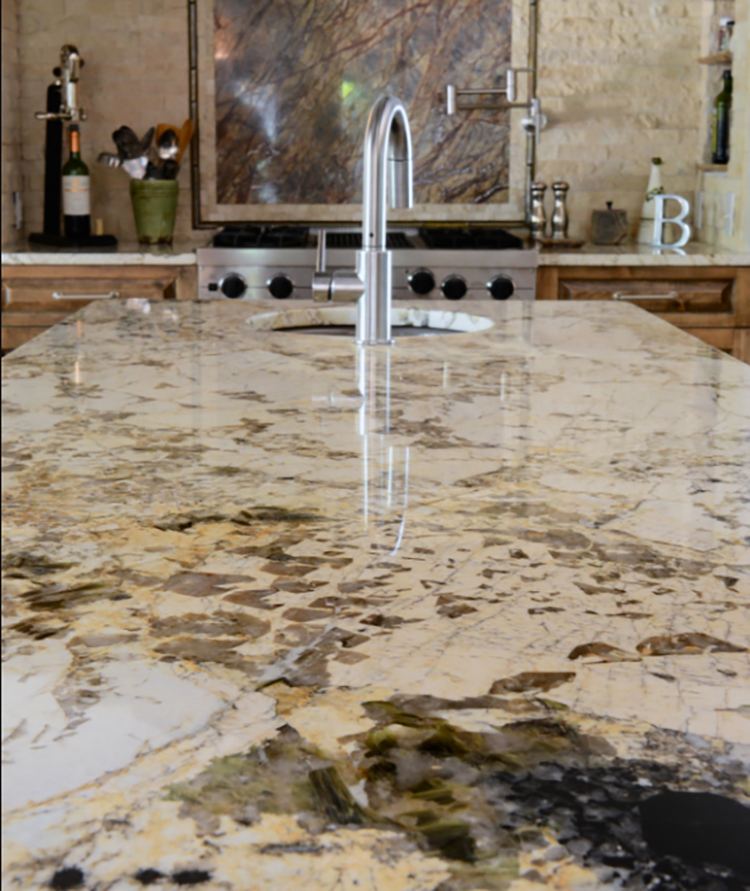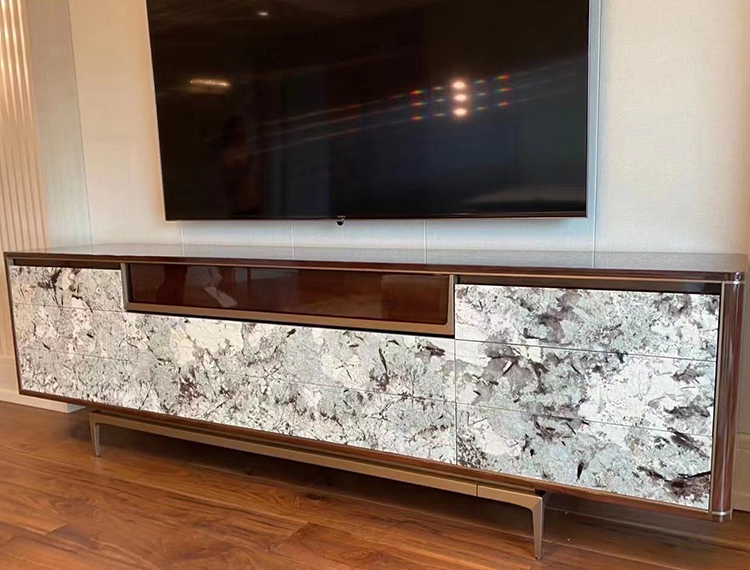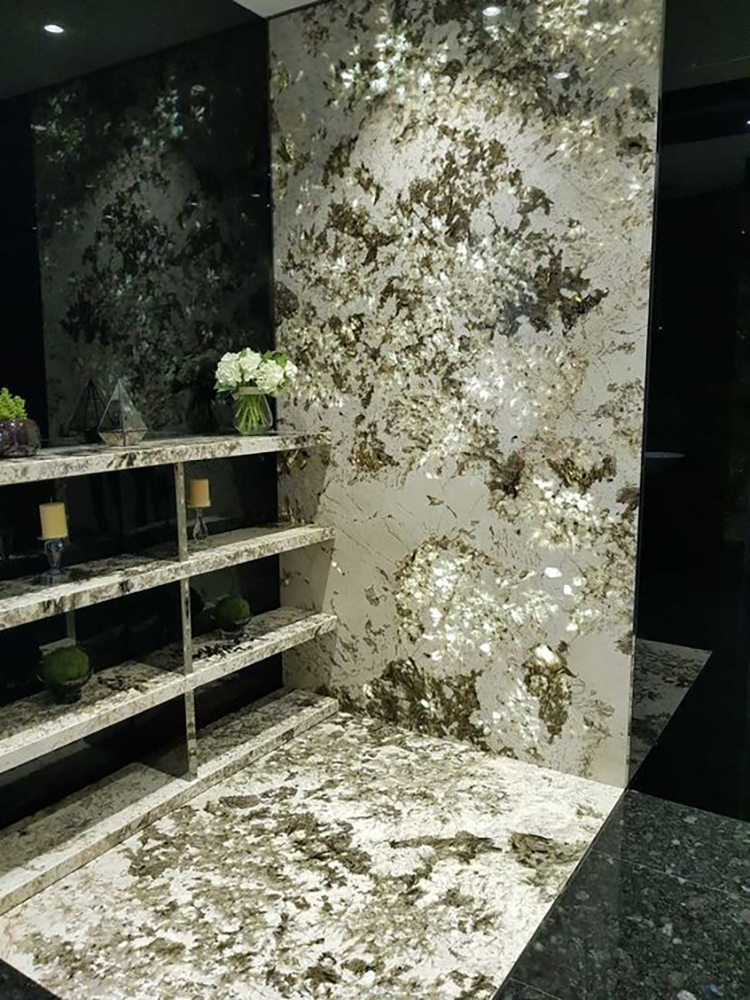 Luxury stone for home decoration ideas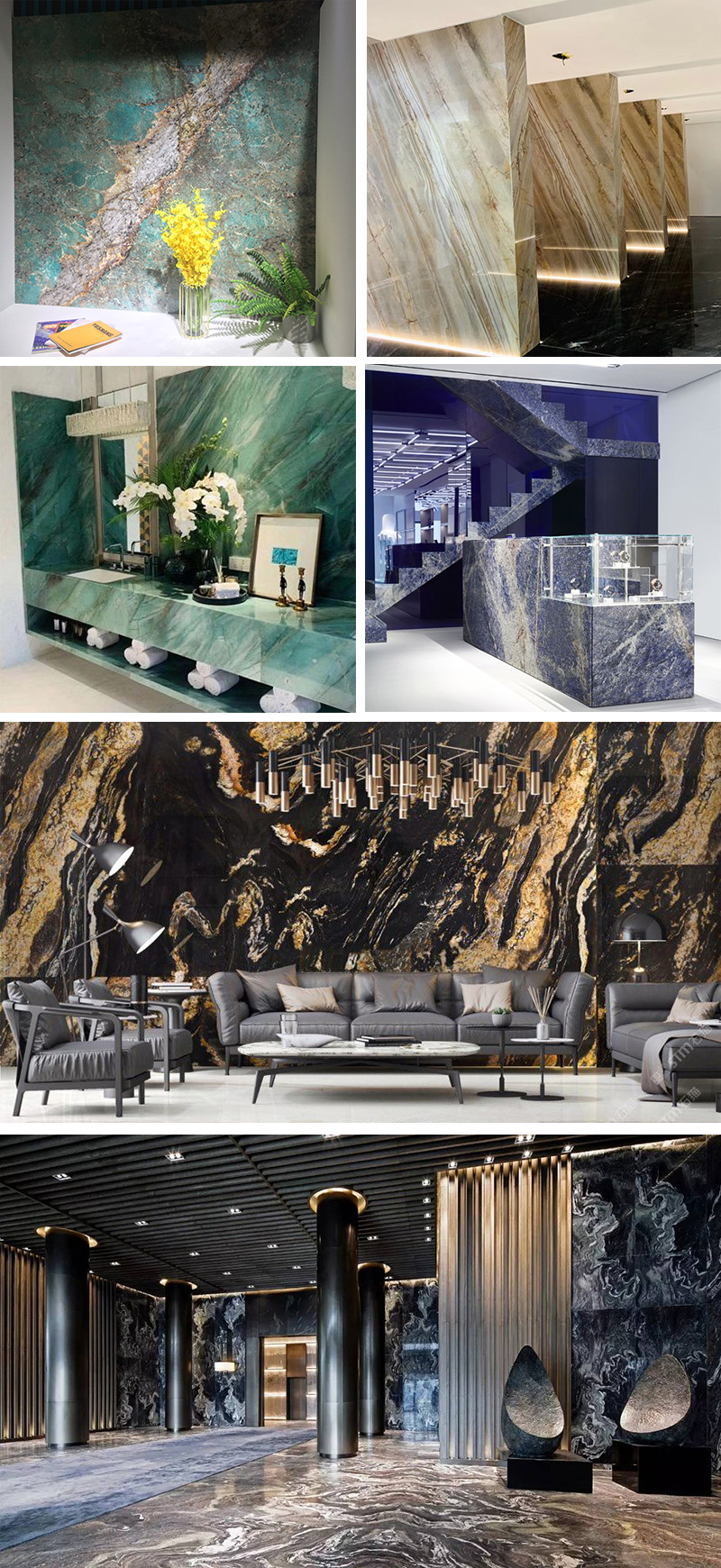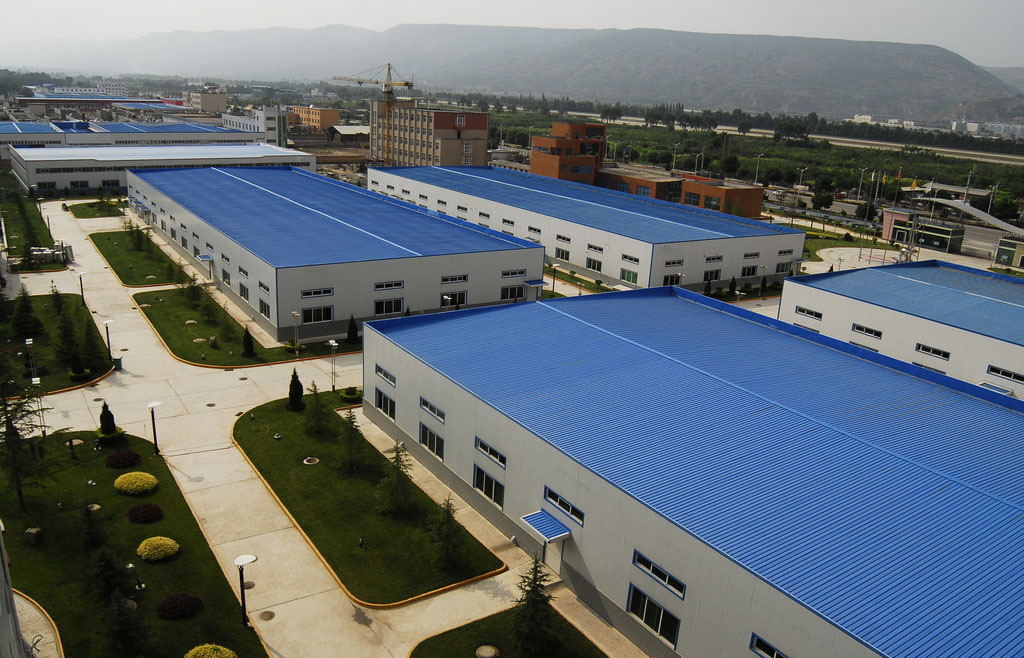 Rising Source Group is as a direct manufacturer and supplier of natural marble, granite, onyx, agate, quartzite, travertine, slate, artificial stone, and other natural stone materials. Quarry, Factory, Sales, Designs and Installation are among the Group's departments. The Group was founded in 2002 and now owns five quarries in China. Our factory has a variety of automation equipment, such as cut blocks, slabs, tiles, waterjet, stairs, counter tops, table tops, columns, skirting, fountains, statues, mosaic tiles, and so on, and it employs over 200 skilled workers can produce at least 1.5 million square meters of tile per year.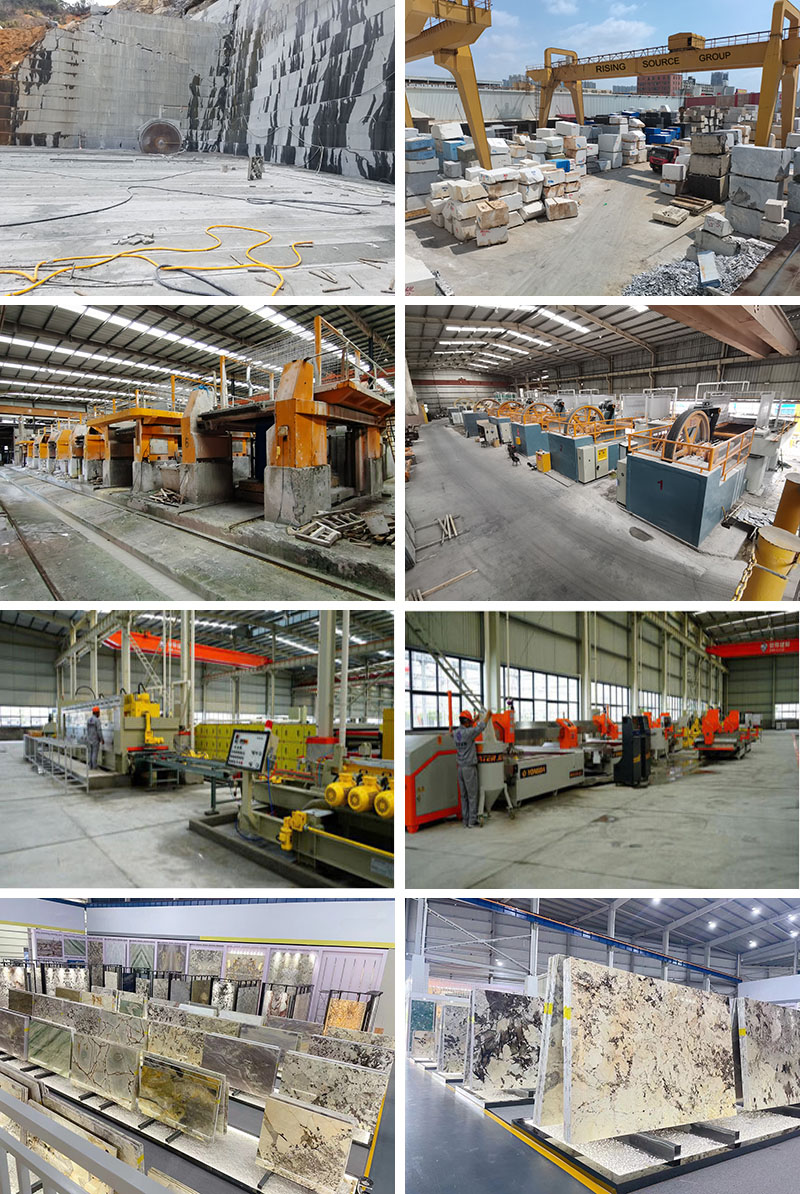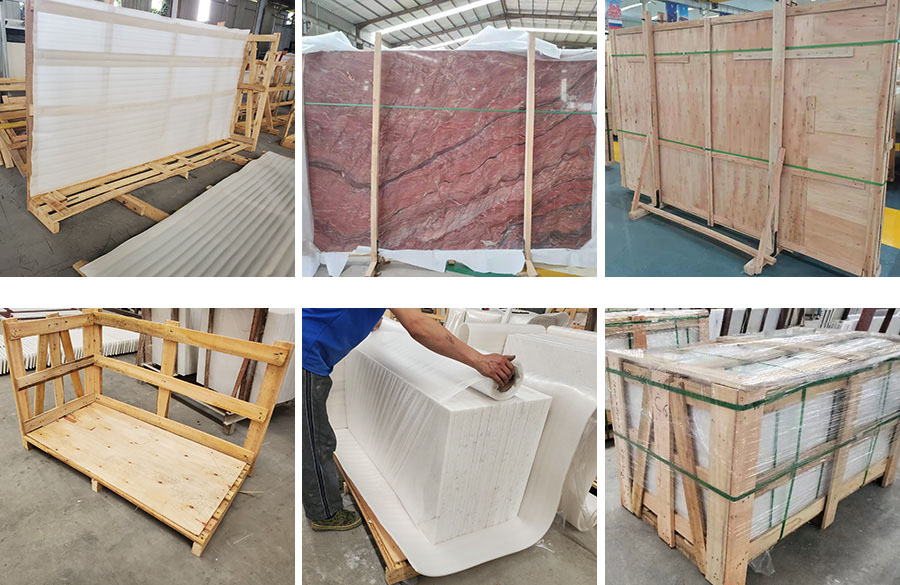 Our strongly and carefully packing details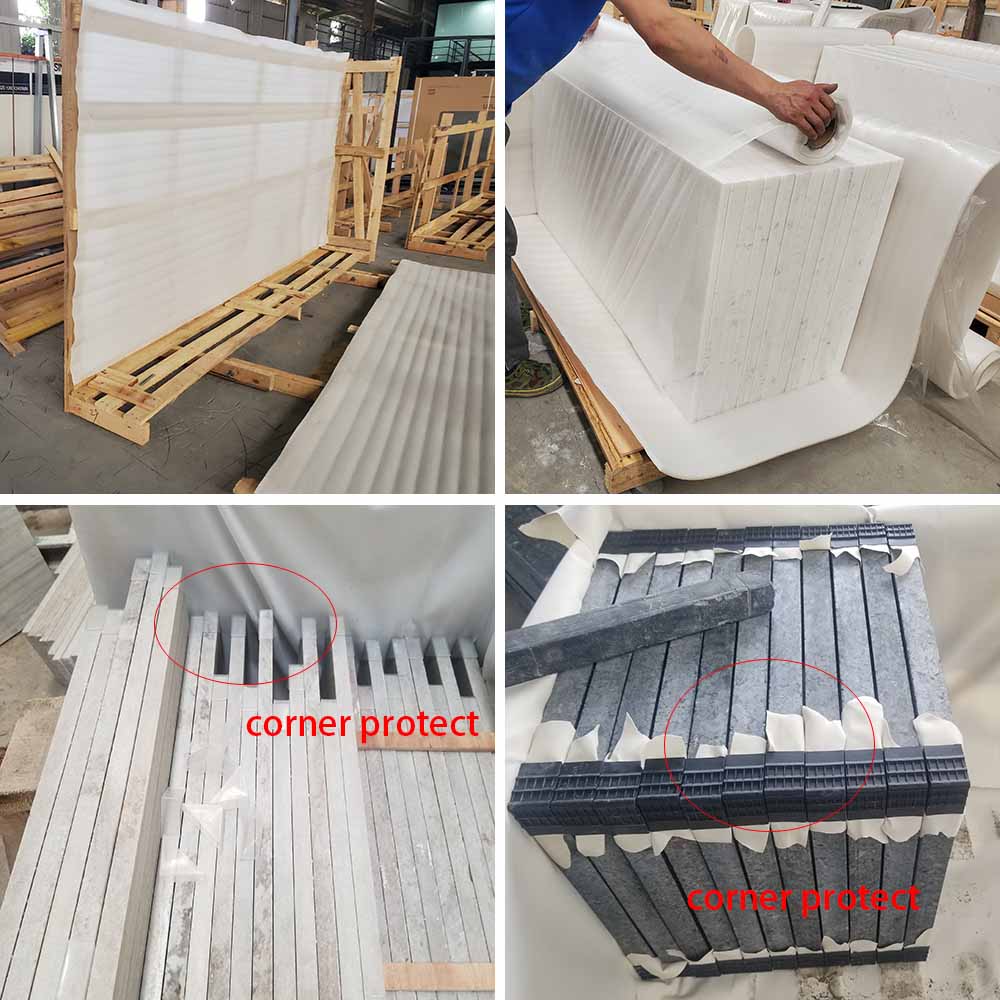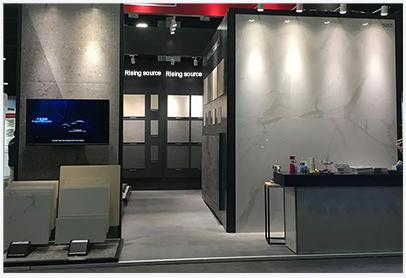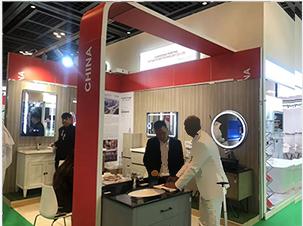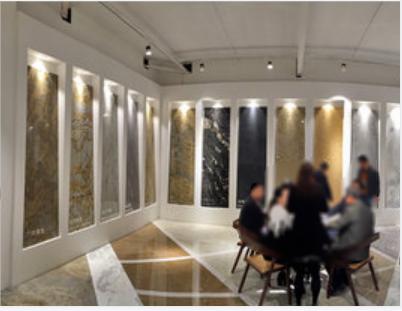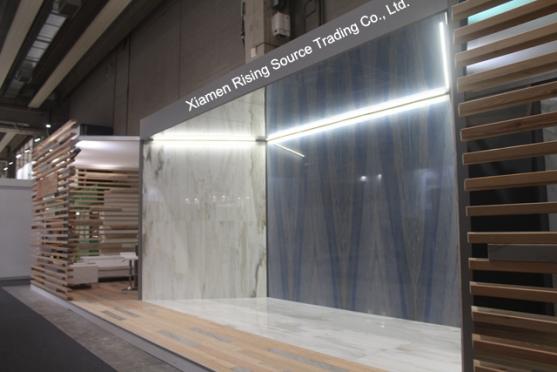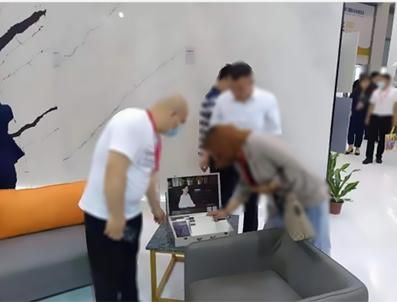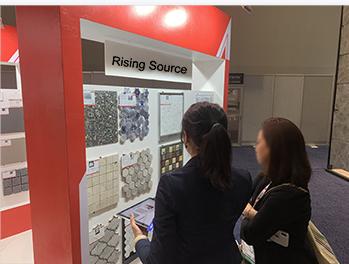 NEWEST PRODUCTS
Newest and wedest products for both natural stone and artificial stone.
CAD DESIGNING
Excellent CAD team can offer both 2D and 3D for your natural stone project.
STRICT QUALITY CONTROL
High quality for all of products, inspect all details striclty.
VARIOUS MATERIALS ARE AVAILABLE
Supply marble, granite, onyx marble, agate marble, quartzite slab, artificial marble, etc.
ONE STOP SOLUTION SUPPLIER
Specialize in stone slabs, tiles, countertop, mosaic, waterjet marble, carving stone, kerb and pavers, etc.
Welcome to inquiry and visit our website for more product information
---
---